Porcelain Veneers: How Miami Gets that Hollywood Smile
We proudly serve south florida and out of state patients, ask about special offers and packages.  
Let them guess... great genes or great dental work?
Is your smile less than perfect? Perhaps your teeth are stained, crooked, or you just never liked the way they looked. CG Smile is here for you. As part of our CG Smile Makeover package, we're proud to offer porcelain veneers for Miami patients. Veneers help patients to smile confidently. We look forward to helping you have the kind of smile that boosts your self-esteem and virtually transforms every facet of your life.
If you're ready to finally have the kind of smile you've always dreamed of, we invite you to schedule a FREE smile consultation with CG Smile today.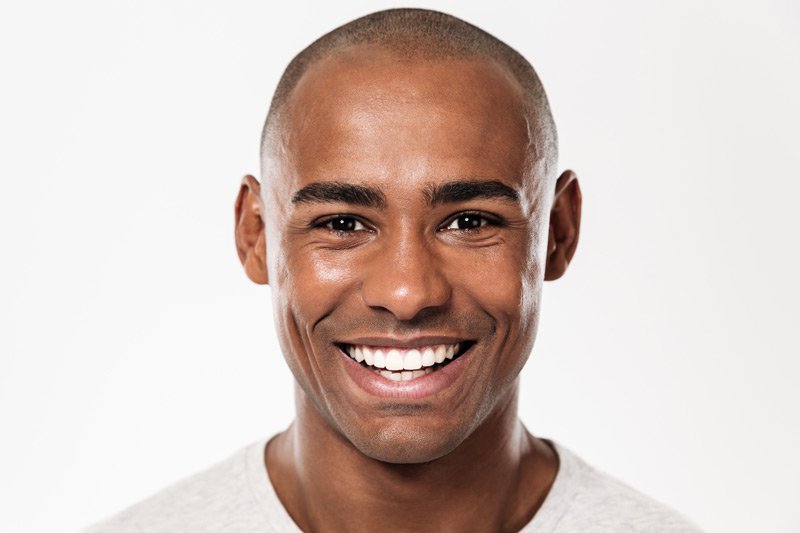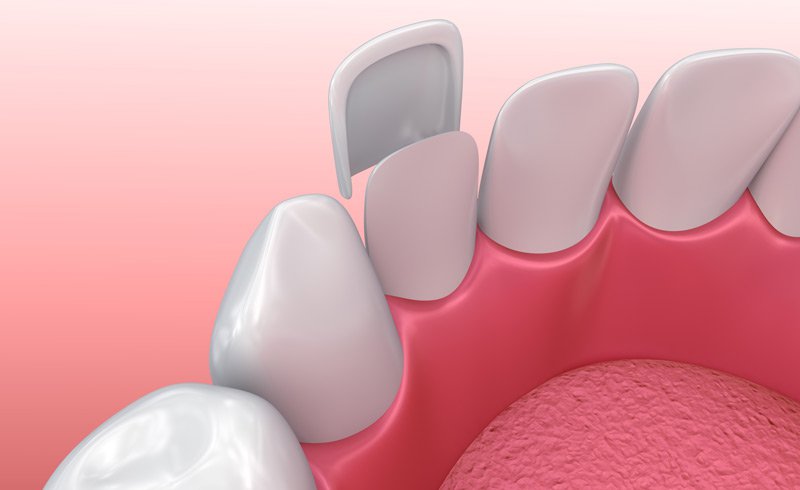 What are Porcelain Veneers?
Porcelain veneers are slender shells of porcelain (or other material) that are bonded to the outward-facing surfaces of teeth to improve their appearance. Veneers can be used to cover whitening-resistant teeth, crooked teeth, and to cosmetically correct misshapen teeth and gaps between teeth (diastema). One of the great things about the latest veneer options is that they are taking advantage of state-of-the-art materials research to improve appearance, durability, and longevity. Today's veneers are practically indistinguishable from natural teeth.
Porcelain Veneers Before & After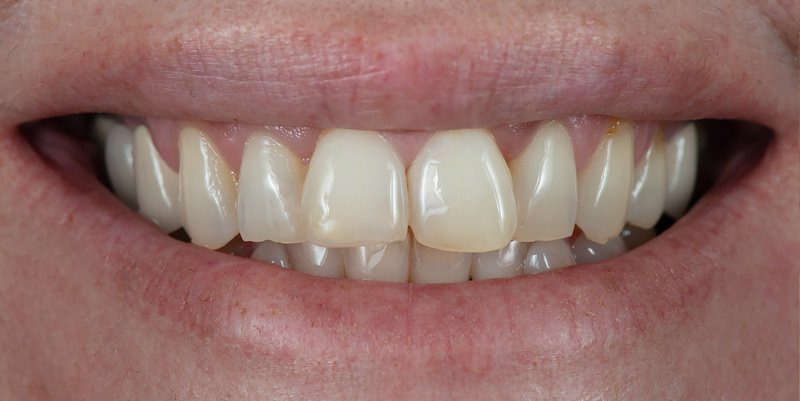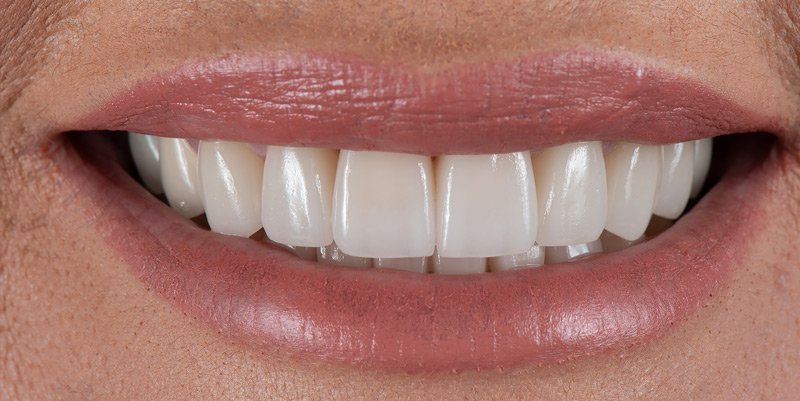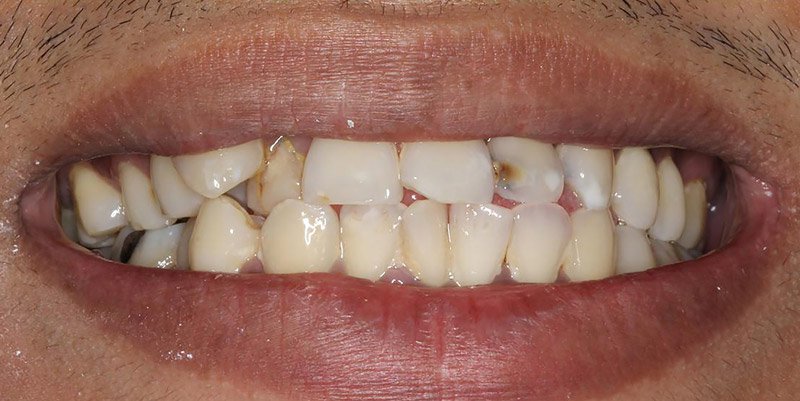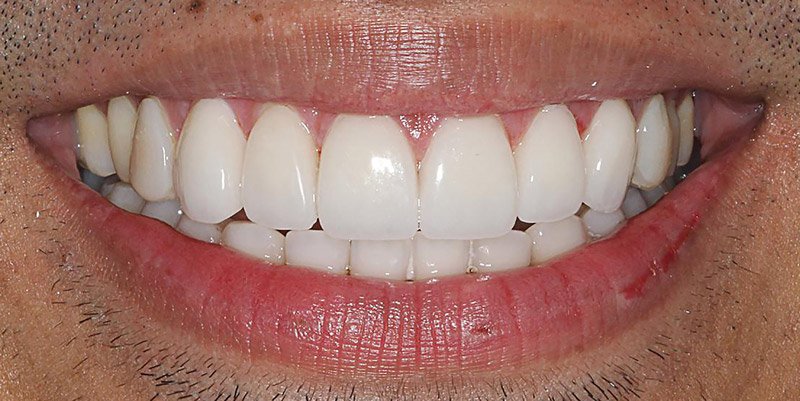 What's it Like Getting Veneers?
The consultation
During your initial consultation, a dentist at CG Smile will ask you questions about what you are looking to achieve through cosmetic dentistry. The dentist will them make recommendations based on your desired results.
Choosing a style
You can choose to have teeth that are more squared off, more rounded, or more pointed — the choice is totally yours. The dentist will make recommendations to help you narrow down your options. If you are happy with the style, the CG Smile staff will then schedule you in for an appointment. (If you choose CEREC veneers, only one appointment is necessary.)
Prepping the teeth
To accommodate the added thickness of your veneers, the dentist may shave and/or reshape your existing teeth to ensure proper adhesion with the veneers. With CEREC veneers, preparing the teeth may not be necessary.
Crafting your new smile
With CEREC veneers, the digital impressions are sent directly to a milling machine and can be applied in just one appointment. Other types of veneers will require impressions being sent to a laboratory that will craft the veneers using more traditional techniques.
Veneers are adhered
Once your permanent veneers are ready, they will be tinted by our in-house master ceramist to match the surrounding teeth (or your chosen shade). Your teeth will be cleaned and a special bonding agent will be applied to ensure the longevity of your veneers. The bonding cement is then cured with a specialized UV light.
request a consultation
CG Smile offers porcelain veneers as part of our complete smile makeover package.
Choose from CEREC same-day veneers, eMax, Empress®, zirconia, and all the latest dental veneer styles.
Porcelain Veneer Care
Veneers require the same level of care as natural teeth. Proper care not only helps keep your veneers looking beautiful but will also help extended their functional lifetime. Here are a few tips that will help you in caring for your porcelain veneers:
Practice positive oral hygiene. Yes, the surface may be porcelain or zirconia, but you should continue to brush your veneers to remove plaque and bacteria. Brushing and flossing around your veneers can help prevent gum recession, gingivitis, tooth decay, and other oral health complications that could put your veneers at risk. 
Avoid hard foods and objects. If you're a nail-biter or you enjoy chewing ice cubes, you should consider changing your habits to preserve your veneers. Like your natural teeth, excess force can cause your veneers to break, crack, or chip.
Avoid stains. Porcelain and zirconia veneers are less susceptible to stains than natural teeth. To maintain shade continuity across your whole smile, it's recommended that you limit consumption of coffee, tea, tobacco, hard candies, berries, soy sauce, and balsamic vinaigrette. 
Note: The tips on this webpage should be taken as general information, not advice. Always follow the care directions to you by your dentist.
Can Veneers Help My Smile?
Veneers are thin shells that are adhered to the front of teeth in order to improve the appearance of the patient's smile. Veneers can be used to correct a number of cosmetic issues such as:
Chipped teeth
Misshapen teeth
Worn teeth
Bleach-resistant teeth
Misaligned teeth (malocclusion)
Gapped teeth (diastema)
Veneers can dramatically enhance the cosmetic appearance of your smile. This is why they are sometimes referred to as "instant orthodontics."
What are the Various Dental Veneer Types?
At CG Smile, we offer eMax (lithium disilicate), Empress®, zirconia, ultrathin monolithic, and ceramic veneers. Each type of veneer comes with its own unique benefit in terms of cost, longevity, and material quality. Here's a breakdown on the various dental veneer types available at CG Smile:
eMax (lithium disilicate). eMax veneers are crafted from lithium disilicate, a type of ceramic glass. Patients often choose eMax veneers for their durability, natural appearance, and to preserve more natural tooth material (compared to traditional porcelain veneer shells). 
Empress®. Empress® veneers are crafted from ceramic glass that has been reinforced with Lucite, a type of acrylic resin. Patients who are concerned with eating hard foods or grind their teeth at night often choose the durability of Empress® veneers.
Zirconia. A relatively recent addition to the range of options is zirconia (zirconium dioxide). Zirconia has gained in popularity due to its strength. In studies, zirconia has shown to be 500% stronger than traditional porcelain veneers. Like traditional porcelain veneers, zirconia has excellent opalescent qualities and can be tinted to match the surrounding teeth.
Ultrathin monolithic zirconia. An element known as yttria naturally shares a bond to zirconia. Ultrathin monolithic zirconia seeks to build off the impressive qualities of zirconia by making the crystalline bond to yttria more stable, which also creates a more durable material during the try-in phase of the procedure (when the veneer is checked for fit and esthetics). 
Ceramic veneers. Although the technology is half-a-century old, ceramic veneers are still a viable option for patients looking to cut down on the expense of the procedure. Ceramic veneers are made of layered feldspathic porcelain to recreate the opaque translucence of natural teeth. There is a tradeoff with ceramic veneers in terms of durability. Since ceramic veneers contain a high percentage of silicates, they are more prone to cracks and fractures compared to other veneer styles. 
New Smile in a Day!
How would you like a brand-new smile in just one day? That is the promise of CEREC veneers. If you are looking to get same-day porcelain veneers in Miami, CG Smile has you covered.