Dental Implants in Miami: Restore Your Smile
Curious about dental implants and what they can do for you? Schedule a consultation with CG Smile today!
Are you missing one
or several teeth?
Are you missing one or several teeth due to periodontal disease or dental trauma? Have you decided traditional dentures or partials aren't for you? CG Smile is your resource for dental implants in Miami. We offer both zirconia (ceramic) and titanium dental implants. Plus, we have an in-house master ceramist for fast, stellar results.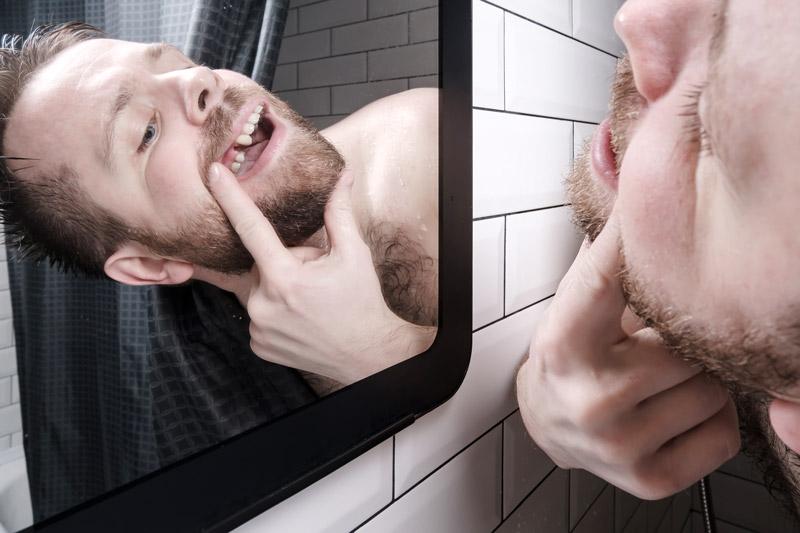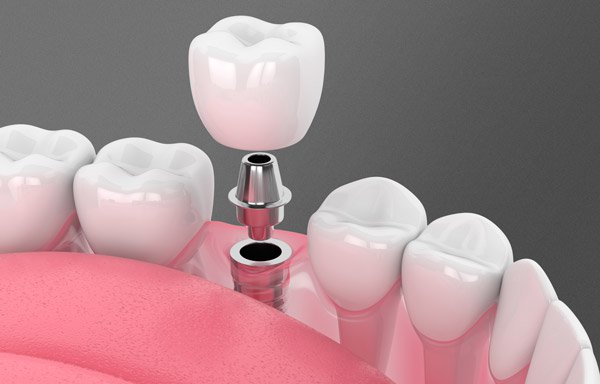 What is a Dental Implant?
A dental implant is an oral prosthetic fabricated from medical-grade titanium or zirconia (zirconium oxide). The procedure is fairly straightforward; a small hole is drilled into the jawbone and the implant post is surgically implanted. Your jawbone actually fuses to the implant post in a process known as osseointegration. This means that once the bone heals, your implant will be anchored just like the root of a natural tooth. In time, you will likely forget you even have an implant (or implants). Titanium implants are fitted with a ceramic crown crafted using precision CEREC technology, while zirconia implants are a one-piece design that is surgically implanted into the jawbone.
Dental Implants Before & After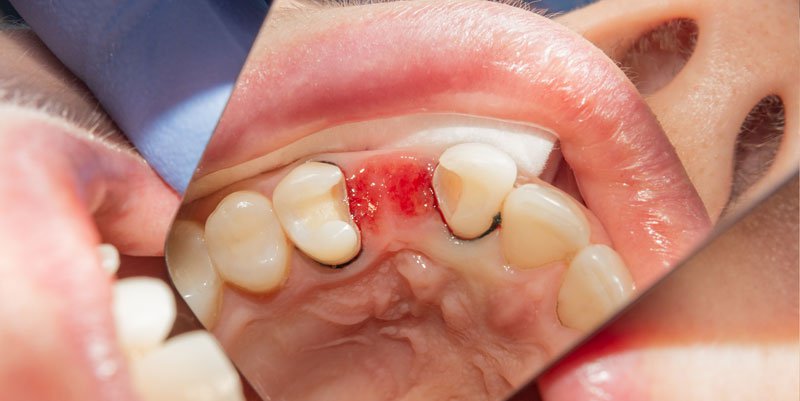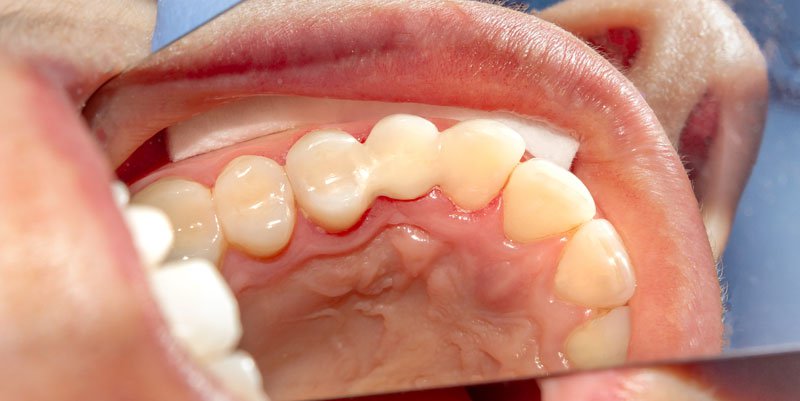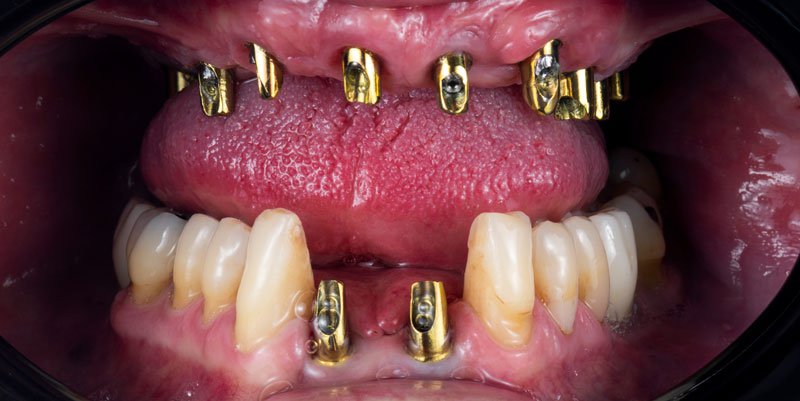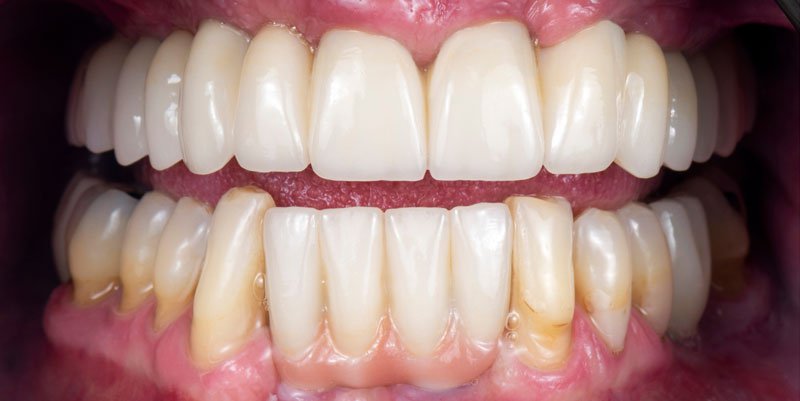 Implants, Dentures, or a Bridge… How Do I Decide?
Like dentures and dental bridges, implants can be used to replace a single tooth or even a whole arch of missing teeth. The three primary factors that come into play when deciding between the three restorative options are appearance, price, comfort, and functionality (how well the prosthetic assists with everyday life). Here's the rundown:
Price. Dental implants cost more than dental bridges and dentures. According to the Consumer Guide to Dentistry, a dental bridge can cost in the neighborhood of $700 to $1000 per tooth, whereas the out-of-pocket cost for a full set of dentures can run anywhere from $400 to $8,000. The wide difference in price is due to the many options available as well as the practitioner's level of expertise. Dental implants, on the other hand, can cost around $3500 per tooth, or $15,000 to $30,000 per arch (row of teeth). Due to the cost of procedures, patients should check with their insurance provider to estimate cost and policy considerations. 
Appearance. Visually, dental implants are the most realistic replacement. With implants, the ceramic crown meets the gumline, so in terms of appearance, they are virtually identical to natural teeth. A dental bridge is the next-best option as the crown (or crowns) can be tinted to match the surrounding teeth. Dental bridges often use metal wings for added support. These can sometimes show through, diminishing the appearance. Complete dentures can also be attractive when fabricated by a specialist. But, the pink, gum-colored acrylic can darken over time, creating an unnatural appearance. 
Functionality. The reason dental implants come so highly recommended by patients and practitioners is due to their functionality. With dental implants, you can eat all your favorite foods without having to worry about how it might affect your prosthetic. Dental bridges can become bent or cracked when chewing hard foods (or worse — become detached due to sticky foods). Dentures are affordable, but they do come with some trade-offs in terms of functionality. Dentures can alter speech patterns and eliminate many popular foods from your diet, such as apples, corn on the cob, carrots, steaks, popcorn, and most nuts.
Comfort. Since dental implants offer the most natural prosthodontic alternative to natural teeth, they are a clear winner over bridges and dentures when it comes to comfort. Many elect for dental implant surgery based on the comfort factor alone.
Up until only a few decades ago, a dental bridge was the preferred method of replacing a single tooth. This procedure involved prepping and crowning the two adjacent teeth with crowns, which would then support a middle artificial tooth. Dental bridges are susceptible to dental trauma and some care needs to be taken when chewing hard foods on the bridge-side of the mouth. In contrast, a single-tooth implant leaves the neighboring teeth intact, and it will function and feel remarkably similar to a natural tooth.
What Happens During a Dental Implant Procedure?
The consultation
Dental implants are not for everyone. They can be prohibitively expensive and there are some oral health criteria that must be met. We will go over all the details during the initial consultation.
Exam
The doctor may order X-rays or CT scans. Healthy, sufficient jawbone material is necessary to support the implant (or implants), although bone grafts before implants are a possibility.
Treatment plan
With your input and feedback, the team at CG Smile Will develop a treatment plan tailored to your personal oral health requirements.
Day of surgery
On the day of your surgery, you will receive a local anesthetic. A small hole is drilled into the jawbone and a titanium post or zirconia one-piece implant is inserted. Depending on your personal treatment plan, the doctor may place a temporary crown on the implant(s) until a permanent crown can be fabricated.
Crown placement
During your follow-up appointment (usually two months following implantation), the dentist will place an abutment onto the implant post. This is used to connect a post to the crown. Your dental crown will be crafted by CG Smiles' in-house master ceramist and will perfectly match the shade of the surrounding natural teeth.
Impressions
Before the crown is fabricated, the doctor will take impressions of your teeth. This will help the implant team create a crown or overdenture with the correct bite and arrangement.
FREE
Implant Consultation
Curious about dental implants and what they can do for you?
Schedule a consultation with CG Smile today!
Start Your Smile Transformation
The first step to getting the smile you've always wanted starts with a consultation. Call CG Smile today and ask us about the CG Smile Makeover.
Titanium vs. Zirconia Implants?
Since the last half of the 20th century, titanium has been the material of choice for dental implants. Those looking for a "titanium-free" option often choose zirconia, a type of durable ceramic. Here are a few factors that may influence your decision-making:
Health. Both zirconia and titanium are biocompatible and fuse well with the tissue of the jawbone. Zirconia may have an advantage in terms of long-term oral health, but may come with its own risks. According to the European Federation of Periodontology, zirconia may be more resistant to bacterial growth compared to titanium, although the cement that is used to initially bond zirconia implants to bone tissue may harbor bacteria if care is not taken by the patient and practitioner.
Patients with Crohn's disease, rheumatoid arthritis, diabetes, or autumn immune disorders may want to avoid titanium as it can cause inflammation around the jaw. There are no known cases of allergic reactions to titanium in healthy individuals. 
So, which is healthier? Titanium or zirconia implants? Despite being touted as "metal-free," zirconia does contain trace amounts of hafnium, an element naturally bonded to zirconia, as well as yttrium. Since yttrium only occurs in trace amounts, its risk to health — if any — is not understood. But zirconia does come with its own bacterial risks. The cement used to bond zirconia implants can harbor bacteria, increasing the risk of periodontal disease, bone loss, and implant rejection.
Durability. Zirconia and titanium are both known for their strength and resistance to corrosion. Zirconia is highly durable, but over time can develop hairline cracks. There are also anecdotal reports that state zirconia may not be resilient as titanium over time.
Convenience. Zirconia is usually only available as a one piece in plants, so they cannot be adjusted after the implant procedure. When a crown cracks on a three-piece titanium implant, usually just the crown is replaced onto the abutment. When a zirconia implant cracks the entire implant may need to be replaced or repaired.
Cost. With zirconia implants, you can expect to pay a premium. Zirconia is not only a newer material, it also requires greater specialization in terms of the fabricator, doctor, and ceramist.
Dental Implant Post-Operative Care
Like other forms of surgery, dental implants will require some level of aftercare following the procedure.
If you elect for sedation, have a responsible driver available. It can take several hours for sedation to wear off and you are safe to drive a vehicle or operate machinery. If you choose to undergo sedation for the procedure, arrange transportation in advance.
Handling discomfort and inflammation. Most over-the-counter pain relievers will sufficiently manage the pain and/or discomfort you will experience following the procedure. You can apply an ice pack to the affected side of the face to help with the swelling. The general rule-of-thumb is to use an ice pack for 10 minutes at a time (10 minutes on, 10 minutes off).
Immediately after (and the days following) the procedure, it's normal to see swelling, blood, and slight pain or discomfort around the surgical site. Within 48 hours, most of the pain, bleeding, and discomfort should subside. If you notice there is still blood after two days, please call our office as this may signal an infection.
Antibiotics. Depending on your individual implant procedure, an antibiotic may be prescribed. Be sure to take this as directed.
What to eat and drink. Stick to soft foods for the first 24 hours following surgery. Drink plenty of water. Non-caffeinated liquids will help flush potentially infectious bacteria from your body.
Brushing and oral health. If you are prescribed a prescription-strength oral rinse, be sure to use this before going to bed on the day of your surgery, then twice on the day after your implant surgery. Saltwater rinses are recommended and are useful in keeping the implant site as sterile as possible. Dissolve a teaspoon (5mL) of table salt into a cup (¼ liter) of warm water. When brushing, take care to not overly agitate the implant site and the area around the abutment.
Have a Question About Dental Implants?
Do you have a question about the dental implant process or aftercare?
Speak with a member of the CG Smile staff. We'd be happy to help!